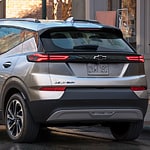 Have you priced Electric Utility Vehicles and found the prices prohibitive? The cost of a Chevy Bolt puts a EUV within reach of every buyer. Affordability is not the only reason to consider the Bolt.
Range And Performance
Drive a fully charged Bolt off the Phillips Chevrolet lot, and you'll travel an EPA estimated 259 miles before needing a recharge. All the horsepower generated by the Bolt's motors goes to the driving wheels taking the Bolt EUV from 0-60 in 6.5 seconds.
Interior Technology
The cabin of the Bolt EUV is a technophiles paradise. The Chevrolet Infotainment System accessed via a 10.2" touchscreen does more than keep you entertained. The touchscreen is a portal to information about Frankfort, Lansing, & Bradley, driving conditions to maximize your Bolt's battery efficiency.
Easy Charging
Qualified Bolt buyers receive free installation of a home charging station. While on the road, 40,000 charging stations are available to replenish your Bolt's batteries.