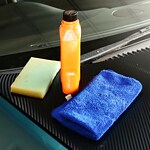 At Phillips Chevrolet we cherish your car's appearance just as much as you do. But sometimes, you just aren't able to take the time to baby your vehicle the way it needs. That's why we've put together a list of quick ways you can clean your car in record breaking time when you're running late or on the go.
Speed Cleaning Tips and Tricks
First: Remove all garbage and loose items from the inside of your vehicle. This includes old food bags, leftover snacks, random shoes, bags and more. With your hand, quickly brush off the seats if there is any loose particles or debris leftover.
Second: Take your floor mats and give them a quick shake to release any dirt or mud that may be sitting on them.
Third: Take some glass cleaner and give your windshield a quick swipe starting on the passenger side. Be sure not to leave streaks as you'll want to make sure that your visibility isn't hindered while on the road.
Fourth: Exit your vehicle, take a water hose, and give your vehicle a quick rinse. Don't worry about drying it off, as it will likely dry while you are on your way to your destination.
That's it! You've cleaned your ride in record time. Enjoy it!