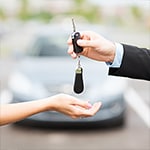 The time has now come to purchase a vehicle. Opting to select a used car opens the door to saving some money. Following several smart steps, such as running a VIN search, helps you choose the best car. A few additional steps can make sure the whole process works smoothly, and you get the best deal.
Know how much money you have to spend before doing anything. Don't undermine the cause by spending time reviewing models outside of your budget. And make sure you have the right idea about what type of car to purchase. Research models by their make, year, and other factors. Find out how many previous owners there were to make a fully informed decision.
Look into the "overall ownership costs. Does the car get great gas mileage and is known for low maintenance? Remember, cars do come with extra costs. Make sure you know what they are.
At Phillips Chevrolet, we want to accommodate buyers interested in a test drive. Please call our sales department and ask about scheduling one.